RollX Series RX150
The RX150 is one of the largest peristaltic pumps in the world. Due to the almost frictionless operation and design the RX150 doesn't generate heat which increases the overall pump and hose life.
Typical Applications:
Sludge & Slurry
Foam Concrete
Mining Waste
Highly Corrosive Acids
Wastewater
Many other applications
The innovative roller design in the RX150 enables the pump in handling the toughest pumping challenges, including extremely abrasive and aggressive fluids, solid loaded liquids, as well as shear sensitive and very viscous materials in a wide variety of industries.

The RX150 displaces around 90 liters per revolution, at low rpm this pump could reach up to 200m 3 /
Download Datasheet
Seal less design
No mechanical seal that can cause leakage.
Lowest operational cost with fast and easy maintenance
RollX pumps displace the medium in a hose, requiring only one component to be changed, which means that maintenance costs are considerably low.
Bi directional flow
Reversible flow, suction and discharge.
No mixing of the medium
Due to the peristaltic effect.
Self priming and continuous dry running
RollX pumps can self prime up to 9 meters and run dry indefinitely.
Long service intervals
Wear resistant hose is the only part that is in contact with the medium.
Maximum Working Pressure ……………….. 10 Bar
Maximum Operating Temperature ………. 100 C
Maximum Hard Solids ………………………….. 22.5 mm
Maximum Soft Solids ……………………………. 120 mm
Maximum Suction Lift …………………………… 9 meters
Hose Material could be …………………….NR or EPDM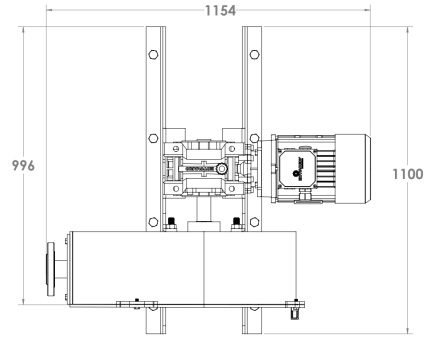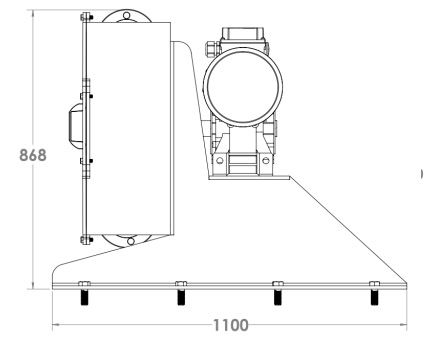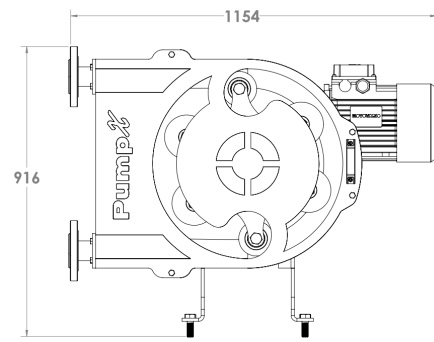 Actual sizes may slightly vary based on motor and gearbox selection
RX150 Performance Curve